No fireworks. No countdown. No Media Noche. No raising of glasses. No
Auld Lang Syne
on loop.
Just me and my netbook.
The hubby and our baby doll snoozed long before the stroke of midnight. I, on the other hand, worked on the
Pinoy Travel Blogger's December blog carnival
until the wee hours. Didn't even notice the arrival of 2013. A stark contrast of what was taking place in Sydney's central business district where hundreds of thousands of Aussies and tourists flocked for the barbies, bubbly drinks and the
6.6 million Australian dollar pyrotechnic extravaganza
.
It was spectacular as expected, and it would have been awesome to have witnessed it up close ...
But
we just couldn't imagine dragging our arses and the tot's arse to such bedlam.
First lunch of 2013 with ze in-laws.

We had a simple celeb on New Year's day with my in-laws. And yes, over barbie. Present were my mum-in-law and her ex-husband, a very hungover bro-in-law and his less hungover fiancee, and us. After a good feed of kebabs and oven-roasted veggies, we whiled the afternoon sitting at the backyard, accompanied by coffee and tea. In my case, glasses of red.

Our toddler Luna and my mum-in-law's cat Hamish were the main entertainment.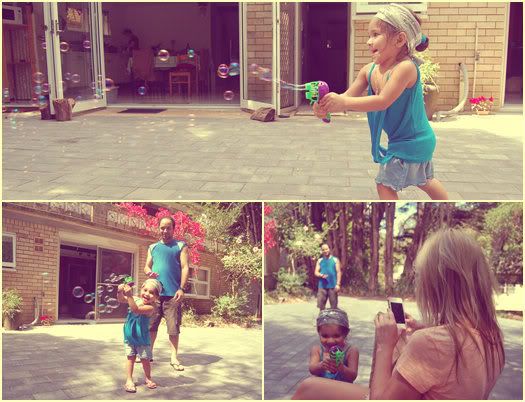 A whole afternoon of watching bubbles glide through the wind.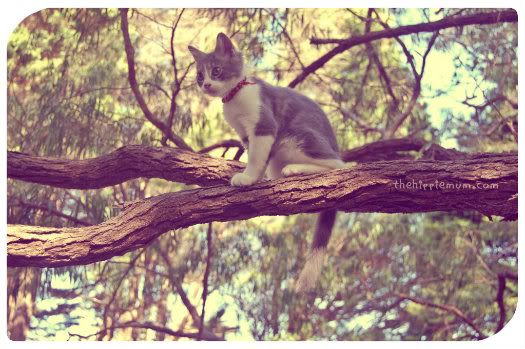 Hamish, shall we call the firestation now so you can get down?
As I watched bubbles emerge from Luna's
bubble gun
, my mind wandered away from the group's discussion about bush fires...
2013 is our segue to domestication. Next year, our daughter will begin preschool. So this year we intend to live in different places on longer periods (longer than the usual one month). In a way, we'll get used to routines. And having nosy neighbors. And owning a rice cooker. I'm quite sad to be honest, of losing immense freedom. But I'm also up for the challenge. Of being a better cook. Of cleaning the house once a month regularly. Of tending the herb garden.
Imagine how much nonsense posts I'll be sharing to my uhm, cult following.
... Aaand I drifted back to the topic of bush fires. I yawned. Can't wait to excuse myself and pack for our first road trip of the year which begins the morning after.
Pin It
Share
Tweet
This page was viewed times.